Over the 30 plus years of conducting auctions there are some collections that stand out. One of those collections is the Bergeron Collection. We have had the honor to represent this collection at auction throughout the years.
The best part of this collection is you never know what will be at the next auction. There's a wide variety of items and many hard-to-find items for any collector.
Our last Bergeron Collection auction was held on Saturday, July 31, 2021, attracted over 300 live on-site bidders from Illinois, Indiana, Ohio, and all over the State of Michigan. Also, phone & absentee bidders. Auctioning just over 750 lots with two auctioneers selling throughout the day.
Small Overview Sold: 1949 Harley-Davidson Motorcycle, Signs, License Plates, Vintage Toys, Jukeboxes, Advertising, Gas Pumps, Antique Bicycles, Cushman's, Primitives, Furniture, Antiques & Collectibles, Pedal Cars, Oil Cans and Many Unique Collectibles.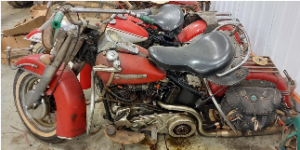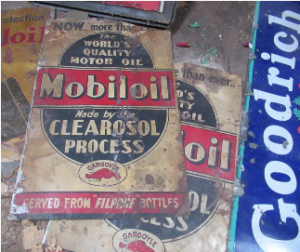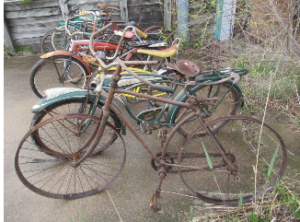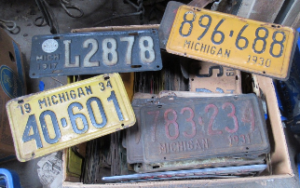 Top Priced Realized:
1949 Harley-Davidson Motorcycle = $22,500
Mobiloil Gargoyle Metal Signs = $1,600 (Each)

Firestone Double Sided Sign = $925
Goodrich Silvertowns Porcelain Sign = $900
Tokheim Gas Pump = $800
Anytime You See "Bergeron Collection" Auction, Mark Your Calendars! You Won't Want To Miss It!!
The Rowley Auctions Team cannot thank the Family enough for trusting us to auction this great collection.
Watch Website for Upcoming Bergeron Collection Auctions in 2022!
Rowley Auctions is a family owned and operated auction company that has been conducting auctions in the state of Michigan and beyond for more than 30 years. We also conduct auctions in parts of Ohio, Indiana and Pennsylvania.
Rowley Auctions located in Attica, Michigan.
Website: RowleyAuctions.com
Info: office@rowleyauctions.com – (810) 724-4035